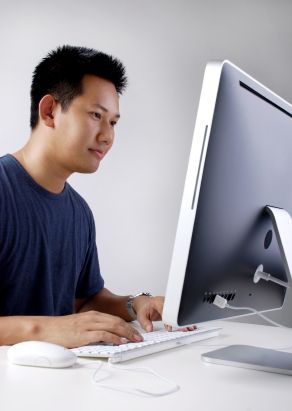 Design Tips
Here are some key items to consider when preparing artwork:
Whenever possible, use page layout software to create your file.
When generating PDFs, be sure to select the "Press Quality" option.
Use Pantone (PMS) colors when designing a spot color piece. 
Use CMYK instead of RGB for full color pieces.
When using Canva, be sure to download your file as a PDF with crop marks and bleed.
Typesetting in any photo retouching program should be avoided when designing for print media.
Vector based artwork eliminates resolution issues and simplifies color editing.
Web graphics may look fine on your screen, but are generally low resolution and will lead to disappointing results in print.
Spot colors may print unpredictably when using transparency.
If you supply us with native files, be sure to include all links and fonts. Many applications include a packaging utility.
Avoid using fine type on top of a dark background or photo.
When designing any envelope, please keep all elements .375" away from the left edge.
If your project does not bleed, please keep all elements at least .25" inside of the trim size.
If your project includes bleeds (elements that go right to the edge of the sheet), please extend them .125" beyond the trim size.
The USPS has a myriad of regulations regarding mailers. If you are unsure of what applies to your project, please contact us and we will assist in avoiding potential problems.
If you wish to have the Union Label included on your printed pieces in a specific location, please let us know. Otherwise, we will use our best judgment when positioning it.
Be sure to visit the FAQ section for additional tips and insight. If you have questions, please call Rich at 609-695-6485 and we will be happy to assist.